ABOUT US
Centre For Entrepreneurship, Innovation & Skill Development (CEISD) is established as a Centre of Excellence of School of Management Sciences (SMS), Varanasi. School of Management Sciences , was established in 1995 as a premier institution of higher learning in the Varanasi, which is one of the most ancient cities of the world and an acclaimed seat of learning plus undertaking cultural, spiritual and religious pursuits. The institute was established to provide management and technical education of highest quality to the students and making them not only skillful but also an excellent human being full of ethical and moral attributes. Approved By AICTE, Ministry of HRD , New Delhi,, affiliated to UP Technical University and recognized under Section 12 (b) and 2(f) of UGC Act , SMS,Varanasi has constantly made sincere efforts towards its objectives and has therefore been able to take a quantum jump A+++ grading among the Best Business Schools by reputed Business Magazines and Rating Agencies.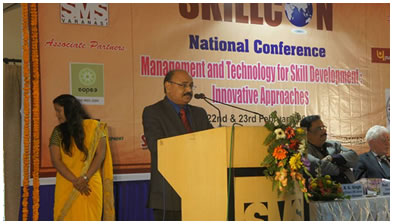 The various awards and accolades bestowed to SMS, Varanasi such as Best Emerging B-School of Northern India and Leadership Award at World HRD Congress and Asia Brand Summit, Mumbai plus Pride of the Industry Award amply reflect the excellent standards set up by the institution. SMS, Varanasi which is internationally accredited offers PGDM, MBA and MCA Programs at the master's level as well as BBA, BCA and B Com. at bachelors level. SMS possesses one of the best and ultra modern lush green campus, embedded with Wi-Fi connectivity, centrally air-conditioned class rooms, seven computer labs with four hundred computer terminals, international summer placements, international student exchange programs, foreign industrial visits and a lot more thrust on pedagogical activities to inculcate budding managers with the value system that shapes them into global citizen whose wider contributions are expected towards the progress of business world.
VISION
To be a World Class Centre of Excellence to Develop and Promote the Knowledge Capital Globally through the Exploration & Promotion of Entrepreneurship, Innovations and Skill Development in order to enrich the World Economy and Human Resource Equity through its Inclusive Growth in totality.
MISSION
To develop and promote the Knowledge Capital on National & International Level through Exploration & Promotion of Ecosystem for Entrepreneurship , Nourish & Mentor the Innovations and Enhance the Multidimensional Managerial, Technical and Human Skill Development in order to enrich the Human Resource Equity of the Nation for its Inclusive Growth resulting into the subsequent economic growth.
OBJECTIVE
• Incubation, Development and Promotion of Existing and Start Up Entrepreneurs
• Skill based Training and Development of the Human Resources
• Promotion of Ecosystem for Entrepreneurship , Innovation and Skill Development
• Innovation Management
• Sectorial Mentoring of Industries through Training & Consultancies
• Academic accomplishment through Teaching and Learning Process
• Development of Triple Helix Model for promotion of Academic – Industry-Government Interface
• Research & Development